IOS Reservations 3.x

Elxis 2009.x
IOS Reservations 3.x
is an online hotel booking system provided as an
Elxis CMS
2009.x
component. IOS Reservations v3.x has some extremely powerful features, such as
SMS
and
FAX
notifications, online payments, hoteliers control panel, tripadvisor reviews, flickr images, and more. It can work under 2 modes:
Single hotel
mode, if you wish to only add your hotel, and
Multiple hotels
mode, if you wish to add many hotels in diferrent locations.
Current version:
3.6
April 2014:
Deprecated
. Replaced by
IOSR Hotels
.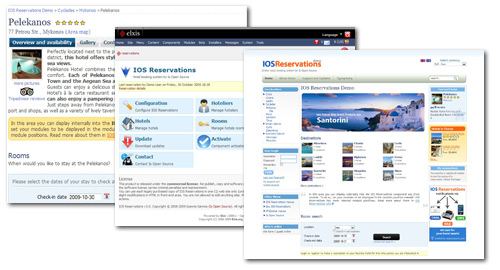 The most important features
Two working modes: Single hotel and Multiple hotels (tourism portal)
Automatic currency conversion from ECB for 34 currencies (much more currencies are supported)
Reviews system with negative and positive comments and also rating for the hotels. You may also fetch reviews from tripadvisor.
Hoteliers control panel for the component's front-end area. Hoteliers do not have to login in backend to manage their hotels and reservations.
Special permissions for hoteliers front-end access, number of maximum hotels they can add and expiration date for their account/subscription.
Confirm, reject, cancel, edit, delete and move a reservation options for the hotelier.
Search and advanced search for rooms. Search results are grouped by hotel.
Stars/keys rating system for hotels, studio, etc.
Unlimited accommodation types
E-mail notifications in recipient's preferable language.
SMS notifications to hoteliers and hotel guests.
FAX notifications to hoteliers.
Multi-language interface that supports unlimited languages, unlimited translations and automatic translations.
Automatic multilingual META data
Search engines and human friendly URLs
Image gallery for each hotelο
Image gallery for each destination. Option to load destination images from Flickr.
CSS template to easily change IOS Reservations style
Layout templates to freely set up the front page (multiple hotels mode)
Unlimited add-on services for each hotel that can also be booked.
Unlimited hotel and room facilities
Special prices for tour operators
Discounts policy (long stay, early booking, children discount, discount for tour operators, week days).
Different discounts can be applied to each room for each season
Room vacancy per season.
Minimum stay days for each room per season
Rooms charge type (per room or per number of guests)
Import/export room prices
Advanced reservations report (export in CSV and XLS format is also supported)
Option to set calendar's date format.
Stop sales dates. You can reduce the number of available rooms for any date or even make a room not available for specific dates.
Booking history and reservation status for the hotel guests.
Reservation cancel. You can also set the number of days till the check-in date a guest is allowed to cancel a reservation.
Reservation surety fee can set as an absolute number or as a percentage of the total reservation cost.
Modular payment system. Unlimited payment methods are supported. Pay via paypal, moneybookers, rurobank, PayPal PRO, etc.
Option to set special prices depending on the week day.
Room availability calendar.
Option to move a reservation in time.
Price range for each room (unlimited entries are supported)
Guests can book more than one room and service at the same time (with one reservation).
Interactive Google maps and standard (image) maps support for each hotel.
Hotel contact form. Full hotel contact details.
Contact any reservation customer directly from within IOS Reservations.
Easy booking and payment procedure with ability to go back in order to correct/edit entered data during all reservation steps. Direct payment links via the hotel guests reservation track page for unpaid reservations. Option to set user registration not required in order to process a reservation.
SSL switch. IOS Reservations can switch automatically to SSL/TLS mode on pages that privacy is important
Automatic thumbnails generation. Best quality without image distortion using resize and crop.
Translated into: Bulgarian, Croatian, English, French, Greek, German, Spanish, Italian, Portuguese, Russian, Romanian and Dutch. More languages might have been added by the time you read this article.
Usage of AJAX makes working with IOS Reservations easy and fast.
IOS Reservations Connector allows you to request rooms availability and book rooms from external web sites (IOS Reservations Connector is not included into the standard distribution package).
Special component's front-page (Multiple hotels mode)
Unlimited locations/sub-locations support
All destinations page (Multiple hotels mode)
4 internal module positions allows you to load any Elxis module inside IOS Reservations component.
For more information about specific IOS Reservations features please visit the IOS Reservations wiki
More info links
Requirements
Elxis 2008.0, 2008.1, 2009.0, 2009.1, 2009.2 and 2009.3 (free download - GNU/GPL licensed).
PHP 5.0 or newer
MySQL database
Other information
Current version: 3.6
Commercial license. You are allowed to install and use this component in one (1) web site only. By purchasing this component you will get a product key for component activation.
You are allowed to edit component's front-end HTML and CSS in order to suit your site appearance.
Component and underlying technology rights owned by Ioannis Sannos (IOS).